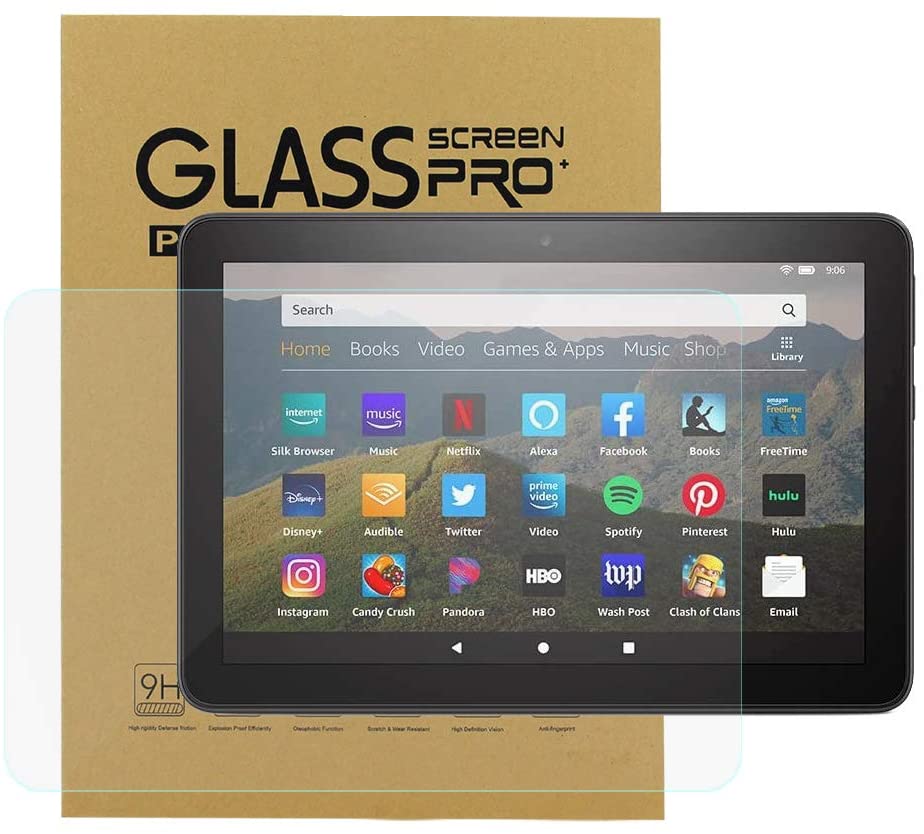 Amazon - Kindle Fire HD 8.0/8.0 PLUS 2020 - Tempered Glass [2 Pack]
ambi-2677-2pk
---
Free shipping on all orders!
In stock, ready to ship

Inventory on the way
[PRECISION CUT TO FIT] - Compatible with Amazon Kindle HD 8, KIndle Fire KD 8 PLUS, Fire HD 8 Kids, 10th Gen 2020. The KIQ tempered glass screen cover is the perfect solution for your device. It completely covers the screen from getting scratched and helps resist damaged without affecting the functionality or features of the display of your tablet device. You do not need to worry keeping dust, oil, or residue as cleaning the screen is easy and hassle-free. Smooth rounded edges for safety.
[TEMPERED GLASS SCREEN PROTECTION] - Best tablet display protection in the market. Unlike the thin and flimsy pet material, our safety glass can withstand much more damage. Scratch-resistant screen that is 0.30mm approximate thickness and rated 9H hardness making our tempered glass the strongest and toughest in the market. Round and smooth edges for safety. Helps prevents screen from damage against accidental drops from low-level, increases resistance against impacts and shocks.
[EASY, BUBBLE-FREE, STRESS-FREE APPLICATION] - One side of the layer have self-adhesive coating that allows the glass to sit on the screen securely. Simply clean (lint-free) and allow it to dry. Peel the protective film from the glass. Align, and gently place the tempered glass on your tablets screen. Push the center of the glass and allow it to stick. You may need to put a little pressure on areas of the screen where it doesn't stick as air pockets may form but eventually goes away.
[ANTI-FINGERPRINT & TOUCH RESPONSIVE] - Fully functioning screen protector which doesn't compromise the use of your tablet and is responsive to the touch. Oleophobic coating which is smudge/stain resistant and easy to clean. The protector screen is compatible with stylus pen, pencil, or pen (pen not included.) It is 99% see-thru. It's adhesive properties doesn't reduce any color or brightness. It does not cause distortion or discoloration and does not affect camera/sensor fuctions.
[CASE-FRIENDLY SCREEN SHIELD COVER] - Precision cut with smooth edges provides maximum safety and makes the screen protector case-friendly allowing you to use your favorite cover. Please check and make sure that your case allows some room for the tempered glass screen protector to securely adhere on the screen. The tempered glass is 0.30mm thickness and smooth edges allowing some covers to easily work with this screen protector and your tablet device.
All orders placed Mon - Fri before 2:00 PM PST will ship the same day.
All orders are eligible for free shipping and typically take 3 to 5 business days to arrive. Expedited delivery (2 to 3 business days) is available for an extra fee.
All products come with a lifetime warranty and hassle-free returns. A full refund or exchange will be provided, no questions asked.